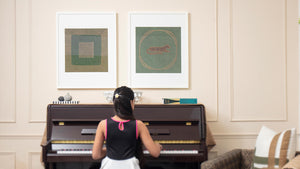 Add layers of texture to your interior decor with BANDHINI HOME Textile Art
Textile Art
Pret Line
Easy and effortless luxury. The Pret Line is a stepping stone to enjoying signature BH Textile Art.
We've sized and priced the Pret Line at a sweet spot, so that you can pick a wall at home, and you're ready to show it off!
Now you can make that impulse purchase and feel great about it!
Textile Art
XL Line
Make a statement. The XL Textile Art collection is focused on the best handcrafting for a statement piece
These artworks typically start at 3 x 4 ft (36 x 48 in), and can be scaled to larger sizes of 4 x 6 ft (48 x 72 in)
BANDHINI HOME offers interior planning support for these textile art pieces, as it's essential to get the desired look for discerning clients who enjoy working at scale.
Textile Art
Connoisseur Line
At the highest end of luxury, products cease being products. They become projects, commissioned for clients.
The connoisseur line is by appointment only. Clients can request a viewing of our select pieces and visit us privately to experience these works of art.
The final piece is commissioned, with numerous customizations in size, design, detailing and thought process.
Reach out to us at +91 98117 3570 for advisory services and appointments